BSPS Programs
Co-op Charting
The Cooperative Charting Program of the United States Power Squadrons®(USPS) was conducted in close coordination with the Marine Chart Division, National Ocean Service, National Oceanic and Atmospheric Administration and the U.S. Department of Commerce. The Program is a major public service of USPS. Under it, members supply information to the Marine Chart Division.
As the Federal Government continues to cut budgets, it becomes ever more important for the USPS to re-emphasize its participation in Cooperative Charting. USPS provides updated and current information leading to corrections to nautical charts, small craft charts, the United States Coast Guard (USCG) Light Lists and the Coast Pilot publications. Without these USPS observations and reports, many hazards would go undetected until tragedy strikes through a nautical mishap.
Recognizing this increased need, an aggressive 2014 Co-op Charting program was launched by the Bellingham Sail and Power Squadron (BSPS) The program began in April with projects staffed by BSPS teams. The projects included the Blaine and Bellingham Small Craft Facilities as identified in the Small Craft Folio for this area and a large portion of the area covered by Chart 18424.
Cooperative Charting Programs undertaken for the project areas include:
Nautical Chart Corrections - Observing and reporting differences between charted information and what is currently observable.
Small Craft Facilities - Observing and reporting the characteristics of marinas, boat yards, and other marine facilities that service small craft.
Range Line Surveys - Similar to Depth Surveys except measurements are position reading along tracks identified by Range Markers.
Coast Pilot Revisions - Examining those sections of the Coast Pilot covering our area and determine where changes should be made to reflect current reality.
Aids to Navigation Inspections - This involves cruising around our favorite areas and observing the buoys and other markers. Items to check are proper functioning of light and sound characteristic legibility of identifying marks and that the ATOMs are in proper position.
Completion of the project lead to updating of nautical information for our boating area.
Vessel Safety Check
A Vessel Safety Check is a courtesy examination of your boat (vessel) to verify the presence and condition of certain Safety Equipment required by State and the Federal regulations. The Vessel Examiner is a trained specialist and is a member of the United States Power Squadrons or the US Coast Guard Auxiliary. They will also make recommendations and discuss certain safety issues that will make you a safer boater.
This is not boarding or a law enforcement issue. No citations will be given as a result of this encounter. We will supply you with a copy of our evaluation so that you may follow some of the suggestions given. Vessels that pass will be able to display our distinctive VSC decal.Look for us on your dock during special events!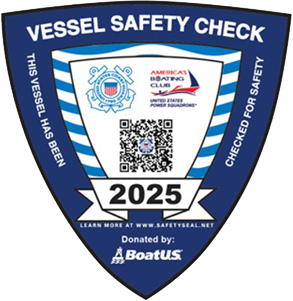 Is your vessel in shipshape condition?
Locate a Vessel Safety Examiner near you for a FREE Saftey Check. or Contact the Vessel Safety Examiners of
the Bellingham Sail and Power Squadron.